Cedar Plank Scottish Salmon
Cedar Plank Scottish Salmon
---
Cedar Plank Scottish Salmon
For one 3-4 lb side of Scottish Salmon Skin On (Whole fillet, is better then small pieces)
This is the most tender and decadent Salmon you will ever have.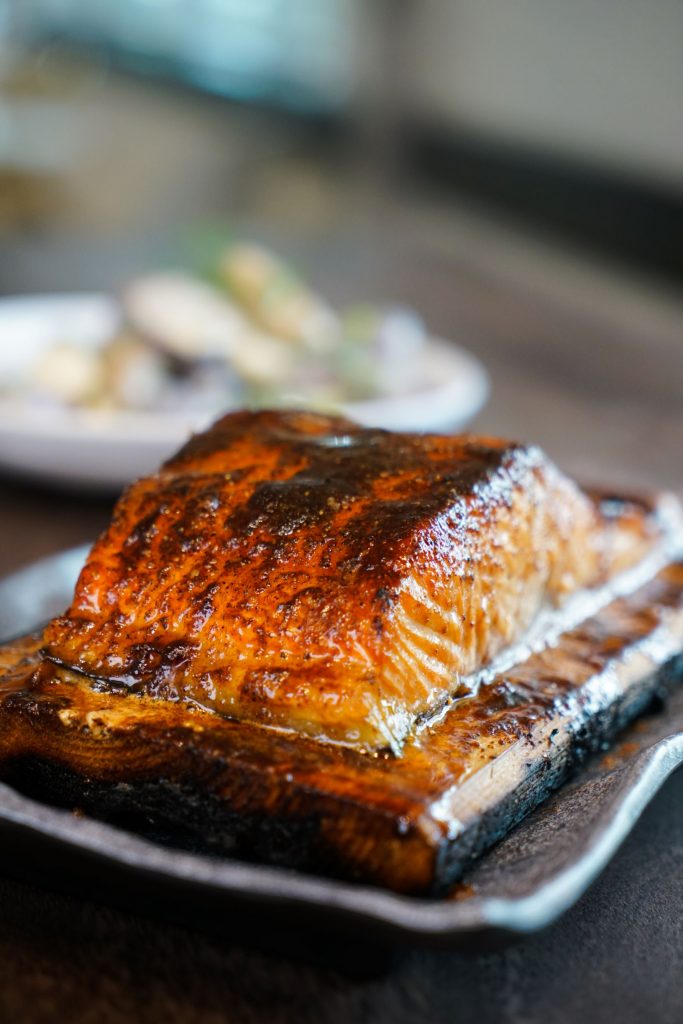 Method:
Place cedar plank under cold water for at least 1 hour before using.
Rinse salmon fillets in cold water, air dry or pat with paper town. Place on cedar plank. Generously rub top and side of Salmon with rub mixture. Add a little more of the mixture on top of the salmon. Place chunks of butter every few inches on top of the salmon fillet. Place on grill on high heat and close grill lid for about 10 minutes or until the plank has started to smoke, it may catch fire, this is a good thing. Don't panic, just pour a bit of water on the plank, Reduce heat to minimum and let sit for another 5 minutes. Do not try to take the salmon off the plank, just place with plank on a platter and serve family style.

I prefer this dish cooked medium rare, although its still very good even well done. You want to eat this as soon as it come off the BBQ.
Rub:
1 cup brown sugar
4 tsp smoked paprika
1 tsp salt
1tsp fine ground black pepper
1 tsp ground dried rosemary
Stick of butter
Potato Salad
1 pound pack Fingerling Potatoes
1 local "Island Fresh" cucumber
2 diced local scallions
½ cup fresh "Cayfresh" locally grown Dill
1 pack of "Bel Gioisos Fresh Mozzarella" ( Cherry Size ) cut in half
Dressing
1/2 cup of mayo
1/4 cup grainy Dijon
2 tbl sp honey
4 tbl sp apple cider vinegar
Salt and pepper to taste