Rainforest Seafood Thai Coconut Shrimp Curry
Rainforest Seafood: Thai Coconut Shrimp Curry
---
Rainforest Seafoods Thai Shrimp Coconut Curry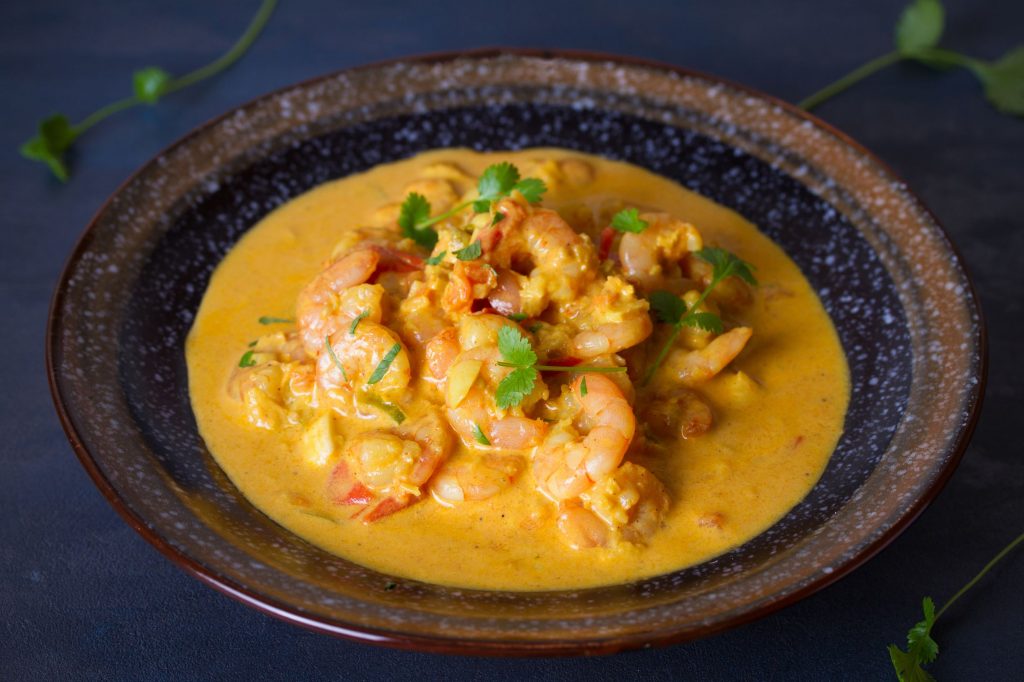 Ingredients:
1.5 pounds shrimp, peeled and deveined
Salt & pepper
1/4 teaspoon cayenne pepper
1 tablespoon lime juice
1 tablespoon olive oil, or coconut oil
1/2 small onion, thinly sliced
1 red bell pepper, sliced
1 1/2 cups sugar snap peas
1 1/2 teaspoons fresh ginger, grated
3 cloves garlic, minced
1 teaspoon curry powder
1/2 teaspoon ground cumin
1 teaspoon ground coriander
1 teaspoon ground turmeric
1 teaspoon salt
13-ounce coconut milk, (full fat)
1 tablespoon brown sugar
1 1/2 teaspoon cornstarch + 1 1/2 teaspoon water
1 teaspoon fish sauce, optional
Lime wedges
Cilantro, chopped
Method:
Season shrimp with salt, pepper, cayenne pepper, and lime juice. Let marinate for 10 minutes.
Drizzle oil in a large skillet and heat over medium. Add the onions and cook for 3 minutes. Add in the bell peppers and cook another 2 minutes. Add the sugar snap peas, garlic, ginger, and seasonings. Cook for about 30 seconds and then pour in the coconut milk and brown sugar.
Bring to a simmer and then add in the shrimp. Bring back to a simmer and cook for about 5 minutes until shrimp is pink and cooked through.
If desired, stir in fish sauce and for a thickened sauce, add in the corn starch water mixture and cook another minute.
Serve curry over rice and garnish with cilantro or Thai basil.