Product recalls
Updated: June 25, 2019
Parivar Dry Dates Recall
NOT AFFECTED
Foster's Food Fair-IGA would like to announce that Shivam Distributors of Longwood, Florida has issued a voluntary recall on its 14 ounce packages of "Dry Dates" because they contain high sulfite content.
Sulfite is a preservative which could cause adverse health consequences with symptoms such as itchiness, upset stomach, headache, stiffness, diarrhea, cough, nausea and weakness.
The recalled "Dry Dates" were distributed in Florida (Tampa, Orlando, Jacksonville, Panama City, Tallahassee, Pembroke Pines, Lake Mary, and Deland) and in Savannah Georgia, Charleston South Carolina, Winston Salem North Carolina, through retail stores from June 2018 to May 2019. The recall was the result of random testing done on May 21, 2019, by Florida agriculture. The distribution of the product has since been ceased.
Fosters IGA does not carry the affected Parivar Dry Dates and has not been affected by this recall. The affected product is as follows: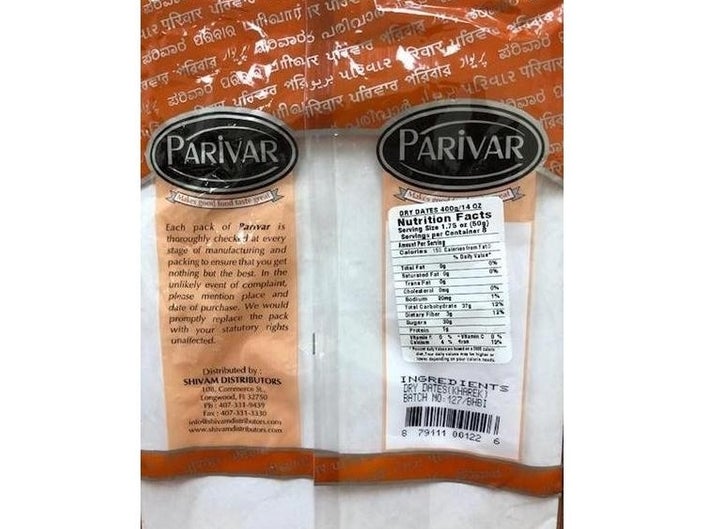 No other Parivar branded product is included within this recall.
Customers should check the UPC's on Parivar branded products at homes to be sure none of the affected product has been purchased. We encourage all customers who have purchased this product from any of our Foster's IGA locations to return the affected product for a full refund. Please discontinue use of any affected product
Should you have any questions or concerns, please do not hesitate to reach out by email
([email protected]) or by phone (345-945-3663).
END