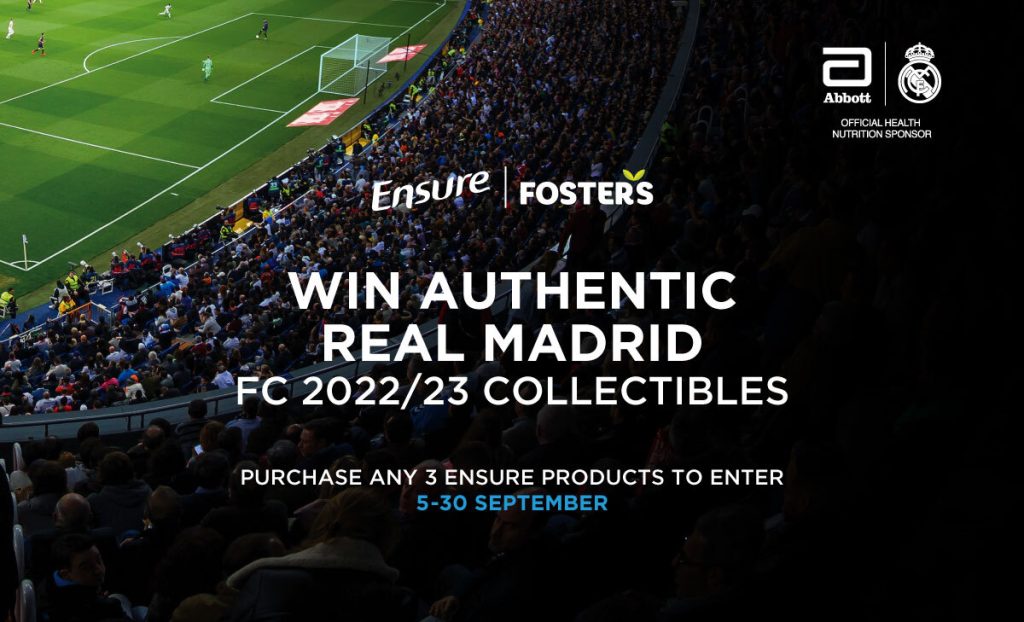 Gooooooaaaaallllll!

Real Madrid is partnering up with Ensure to give 3 lucky winners an authentic Real Madrid Gear Prize Pack.
To enter purchase any 3 Ensure original bottles.
With your receipt and entry slip, enter here:
Terms & Conditions apply. Promotion runs until September 30th, 2022.
---
Ensure Real Madrid Giveaway – Terms & Conditions
GIVEAWAY TERMS & CONDITIONS. The promotion runs from September 5th, 2022 until midnight on September 30th, 2022 at all Foster's Supermarket locations. Customers must purchase any three (3) Ensure products in-store to be entered to win 1 of 3 Real Madrid Gear Prize Packages. Customers will receive one entry only into the promotion for every eligible purchase. Winners will be drawn on September 12th, September 19th, and October 1st. Winners will be contacted via email first. If they cannot be reached in two days, they will be contacted via phone. If the winner cannot be reached within 5 days of drawing, the prize will go to the runner-up. Prizes must be collected within 14 business days of reaching the winner via phone or email.
Legal residents of the Cayman Islands over the age of 18 are eligible to enter. Current and ex-employees (within 60 days of end contract) of Foster's Food Fair, Ltd., and their immediate family, are not eligible to participate.
To enter, customers must submit all of the following via the entry form at: https://giveaway.fosters.ky – photo of the front of the eligible transaction receipt, photo of the back of the eligible transaction receipt, photo of the front of the entry slip(s) (with the name of customer) provided with the eligible transaction receipt. Entries may also be submitted in store at the Customer Service counter by completing and signing the manual entry form and providing the eligible receipt and promotion slip(s). Contact information collected with entries will be stored securely for a period not exceeding six (6) months before being destroyed. Contact information will only be used to contact winners and will not be used for marketing purposes unless otherwise stated by the entrant.
Thank you for shopping at Fosters, and we hope to randomly draw your name again soon!