Food & Lifestyle
Updated: July 30, 2021
Creamy Tomato Farfalle
Love tomatoes? Well this recipe is for you! This creamy classic is full of tomatoes and packed with quality ingredients. Try it for yourself.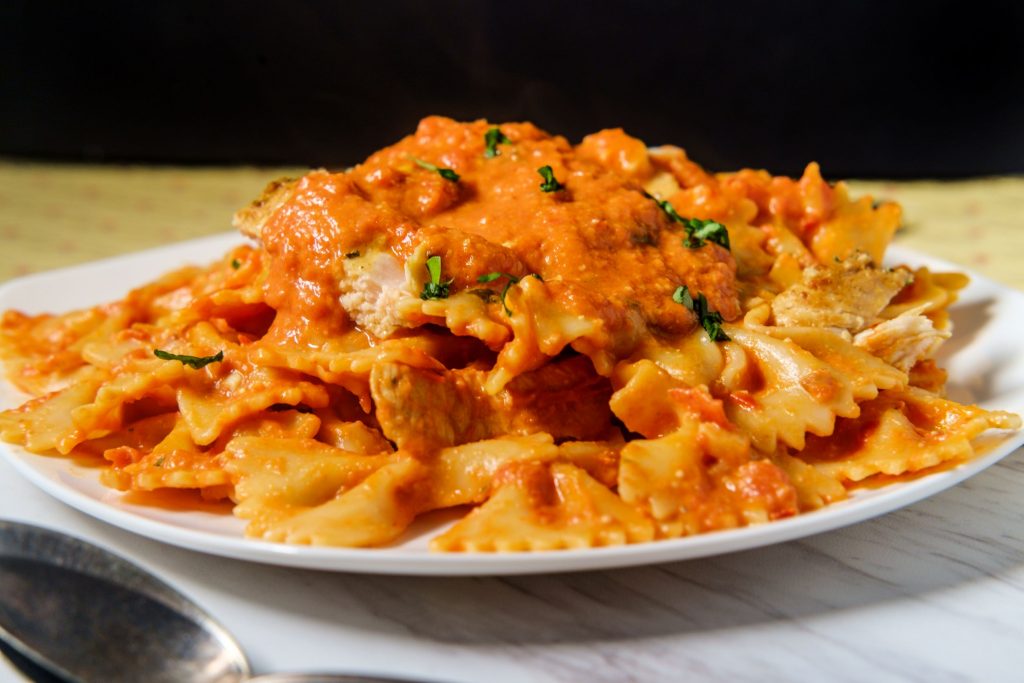 Ingredients
1 x 1.1LB De Cecco Farfalle (Bow Tie Pasta)
2 x Bridge Bio Oat Cream (200 ml each)
1 x 24 oz can Hunts Traditional Tomato Sauce
2 tbsp Hunts Tomato Paste
½ jar of Waitrose Sun-Dried Tomatoes (280 g)
1/4 of a small onion
1 x clove of garlic
2 tbsp Plant Based Butter
2 tbsp flour
*optional add a cup of spinach – combine and stir until wilted (remove the stems)
Instructions
Melt 2 tbsp plant based butter in a large frying pan. Blend ¼ of a small onion and one large clove garlic in a blender with ½ of one container of Bridge Bio Cream – blend until smooth. Mix that mixture with the flour and plant-based butter into the large pan until it forms a paste. Begin to add the remaining bridge bio creams to make the sauce. Gradually add the Hunts Traditional Tomato Sauce and combine well. Then add half of a jar of sundried tomatoes finely chopped. Incorporate some of the oil with the tomatoes into the sauce.
If you choose to add the spinach combine at the end and gently stir until the spinach is wilted (be sure stems have been removed from the spinach)
Prepare 1 bag of De Cecco Farfalle (Bow Tie) pasta. Once cooked al dente combine with the sauce and serve.
---
This recipe is sponsored by Progressive Distributors.