Get Samplin' at Foster's Camana Bay

Discover the delicious taste of mushrooms and tomatoes like never before! Join us at Foster's Camana Bay as we celebrate earths provisions with mouthwatering samplings each month. Come and experience how you can cook your faves in new and exciting ways, with some unique recipes that are as easy to make as they are delicious.
---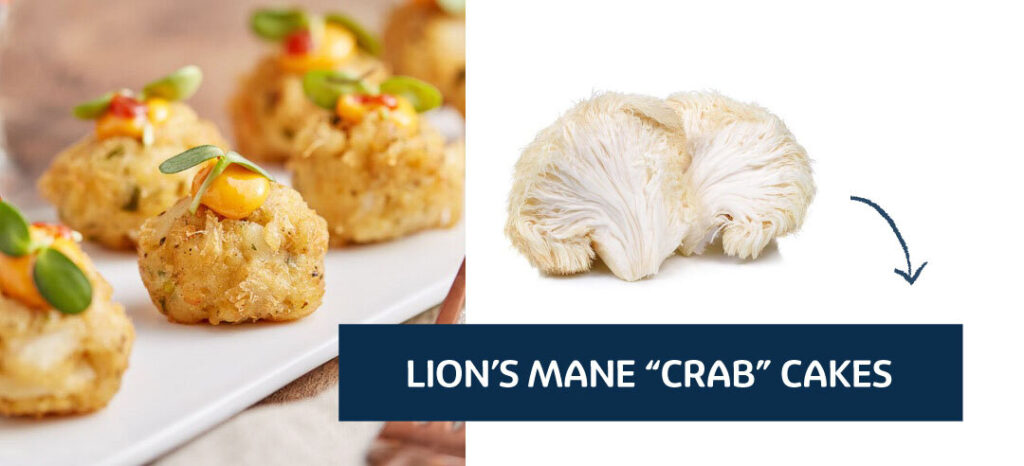 INGREDIENTS
4 tablespoons extra virgin olive oil, divided
16 ounces of Lion's Mane Mushroom
mushrooms, shredded or chopped
1 cup finely chopped onion
¼ cup finely chopped red bell pepper
2 tablespoons minced garlic (~6 cloves)
¾ cup panko bread crumbs
2 eggs, beaten
4 tablespoons chopped parsley
2 teaspoons Old Bay seasoning (kosher salt
as a substitute), plus more for garnish
Lemon wedges, for garnish
½ cup high-quality mayonnaise
1 ½ teaspoons garlic powder
½ teaspoon onion powder
4 teaspoons lemon juice
Freshly ground black pepper, to taste
METHOD
Prepare Lion's Mane mushrooms by pulling each puff apart with your hands and shred to the size of lumped crab, or slice thinly with a sharp knife. Heat 2 tablespoons extra virgin olive oil in a large skillet over medium heat. Add prepared mushrooms, onions, and bell pepper, and cook until soft, stirring constantly, about 5 minutes. (It will look like a lot of mushrooms at first, but like spinach, it will wilt down.)
Add minced garlic and cook until most of the moisture has evaporated from the pan and the mixture resembles steamed crab meat, about 5-7 more minutes. Remove from heat and reserve in a large bowl in the fridge. Let cool 10-15 minutes.
In the meantime, in a small bowl mix together mayo, garlic powder, onion powder, lemon juice, and freshly ground black pepper. Set garlic aioli aside.
Once mushroom mixture is cool, add panko breadcrumbs, beaten eggs, parsley, Old Bay, and cayenne pepper (optional) and gently fold everything together with clean hands or a rubber spatula until well incorporated.
Use a ? cup to scoop onto a large plate/platter and carefully shape into ¾-inch thick patties. Let rest in the fridge for 5 minutes to firm up.
In a large non-stick skillet, heat the remaining 2 tablespoons extra virgin olive oil over medium-high heat. Once shimmering, place half of the patties into the oil and cook until browned on one side, about 2-4 minutes. Flip and cook on the other side until browned. Remove from heat and place on a cooling rack over a baking sheet. Season with extra Old Bay seasoning while hot.
Repeat the process with remaining patties. Once done, serve with the garlic aioli and enjoy immediately! Chef's Note: Increase spice level by adding cayenne pepper, to taste.
---
INGREDIENTS
1 packet of Melissa's organic Italian Herb Polenta
1-3 tbsp extra virgin olive oil
12 oz. Honey Bombs™ Tomatoes
Fresh Basil
Fresh grated or shaved parmesan
METHOD
Prepare a hot grill.
Trim the ends of the polenta so that you have ?at surfaces. Slice the polenta into 8 rounds.
Lightly brush olive oil on each slice. Then sprinkle with salt and pepper.
Place the seasoned side down on the grill. While on the grill, repeat oil, salt, and pepper.
Cook 5 minutes on each side or until lightly browned. Repeat procedure with remaining triangles.
When arranged on the platter, place equal amounts of slice tomato on each piece of polenta toast.
Sprinkle with fresh parmesan and basil and then serve.