Food & Lifestyle
Updated: August 5, 2019
Back To School: Quick & Easy Recipes
Need some inspiration for your kids' lunch meals? Don't fret, we've got you covered!
Monday
Taco Chicken Caesar Salad Wraps with a side of Grapes & Cheese
(30-minute Prep)
Ingredients:
Sliced Chicken Strips
Lettuce
Caesar Sauce
Cheese (preferred)
Bacon Bits
Cherry Tomatoes
Grapes
Heat oil in a medium skillet over medium-high heat. Add chicken and seasonings to the skillet and cook, stirring occasionally, until the chicken is evenly coated with the spices, browned and cooked through, 5 to 7 minutes. Set aside.
Lay tortillas and top each one with lettuce, tomatoes, cheese, and cooked chicken.  Roll up the tortillas, leaving one end open, then wrap in sandwich paper, leaving 1 to 2 inches of the wrap open and exposed. Enjoy, removing the paper as needed. To transport, cover each wrap entirely in foil.
Pack grapes and cheese in a prepped container.
Tuesday
Pigs in a Blanket with a side of Carrots & Ranch Dip
(15-minute prep)
Ingredients:
Can of Pillsbury Refrigerated Crescent Rolls
Smoked Link Sausages (Two-oz-Packages)
Baby Carrots
Ranch
Heat oven to 375°F. Unroll both cans of the dough; separate into 16 triangles. Cut each triangle lengthwise into 3 narrow triangles.
Place sausage on the shortest side of each triangle. Roll up each, starting at shortest side of the triangle and rolling to opposite point; place point side down on 2 ungreased cookie sheets.
Bake 12 to 15 minutes or until golden brown, switching the position of cookie sheets halfway through baking. Immediately remove from the cookie sheet. Pack when cooled.
Pack baby carrots and put ranch in a plastic dipping container. Pack away.
Wednesday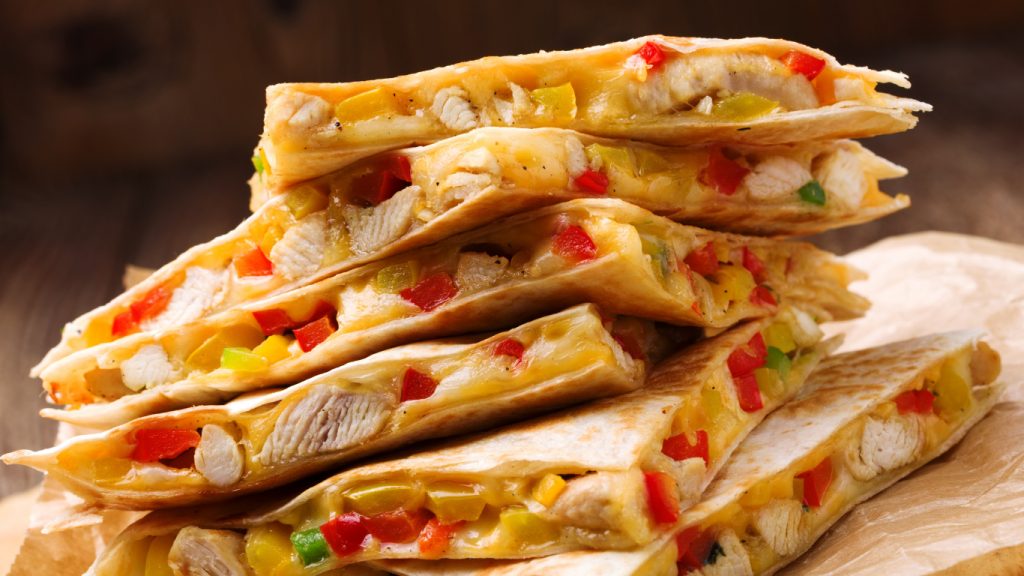 Chicken Quesadillas with a side of Seasoned Tangerines
(30-minute prep)
Ingredients:
Flour Tortillas
Sliced Chicken Strips
Grated Cheese
Olive Oil/Butter
Sliced Chicken Strips
Tangerines
Season chicken with preferred spices and fry in an oiled pan over medium-high heat until cooked through.
Transfer the chicken onto a cutting board. Let cool and then cut into small bite-size pieces.
In a medium bowl, combine chicken and cheese.
Take a quarter of the chicken mixture and spread over half of a tortilla, leaving about a half border at edge. Fold the tortilla over filling, pressing firmly to seal. Continue with the remaining tortillas and filling.
Melt 2 tablespoons of butter in 12-inch non-stick skillet over medium heat and place 2 quesadillas in the skillet, and cook, firmly pressing with a flat spatula, until tortillas are golden brown and cheese is melted, about 2 minutes per side.
Transfer to a cutting board, and repeat with the remaining quesadillas. Pack when cooled.
Take apart tangerine pieces and mix with a teaspoon of old bay seasoning and pack away.
Thursday

Chicken Nuggets with a side of Cinnamon Apples
(10-minute Prep)
Ingredients:
Sliced Chicken Breast
Seasoned Italian Breadcrumbs
Parmesan Cheese
Butter
Apples
Cinnamon/Cinnamon Sugar
Preheat oven to 400 degrees F (200 degrees C).
In a medium bowl, mix chicken pieces together the breadcrumbs, parmesan cheese, and spices. Put melted butter in a bowl or dish for dipping.
Dip chicken pieces into the melted butter first, then coat with the breadcrumb mixture. Place the well-coated chicken pieces on a lightly greased cookie sheet in a single layer and bake in the preheated oven for 20 minutes. Pack when cooled.
Cut up apples and mix with cinnamon or cinnamon sugar to pack.
Friday

Ham and Cheese Sliders with a side of Parmesan Zucchini Fries
(30-minute prep)
Ingredients:
Hawaiian Rolls
Deli Honey Ham
Provolone Cheese Slices – cut into fourths
Honey Mustard & Mayonnaise
Zucchini
Panko Breadcrumbs
Grated Parmesan Cheese
Flour
Eggs
Cut rolls in half and spread mayo onto 1 side of the rolls. Place a slice or two of ham and slice of swiss cheese in the roll. Replace the top of the rolls and bunch them closely together into a baking dish.
Bake at 350 degrees for 5 minutes or until cheese is melted. Pack when cooled.
Zucchini Fries –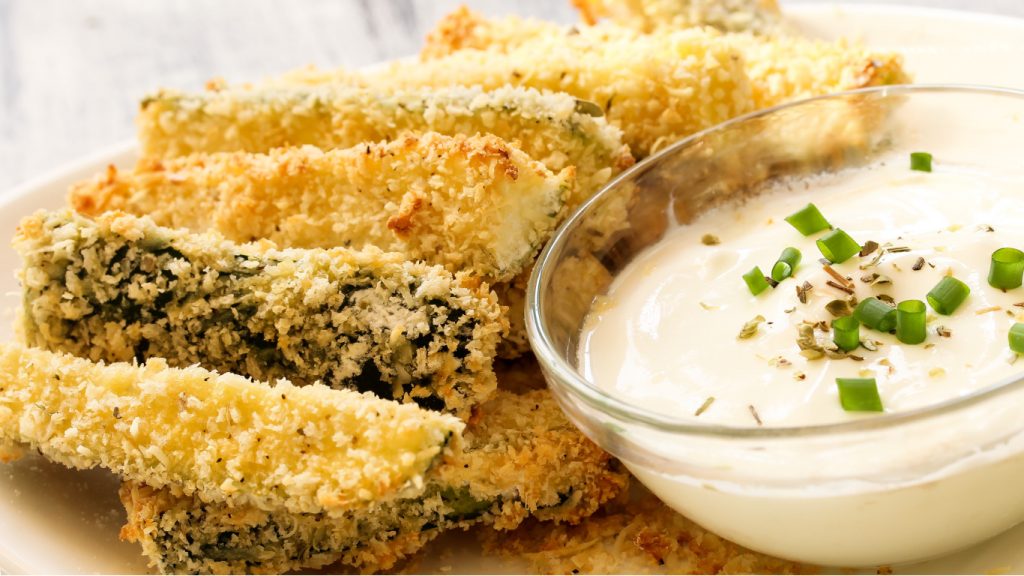 Turn oven up to 425 degrees F. Coat a cooling rack with nonstick spray and place on a baking sheet; set aside.
In a large bowl, combine Panko, Parmesan, and preferred species. Set aside.
Working in batches, dredge zucchini in flour, dip into eggs, then dredge in Panko mixture, pressing to coat.
Place zucchini onto a prepared baking sheet. Place into oven and bake for 20-22 minutes, or until golden brown and crisp.
Pack when cooled.
For more Back-to-School recipes, click here!