A Twice as Nice Christmas
Win & Give!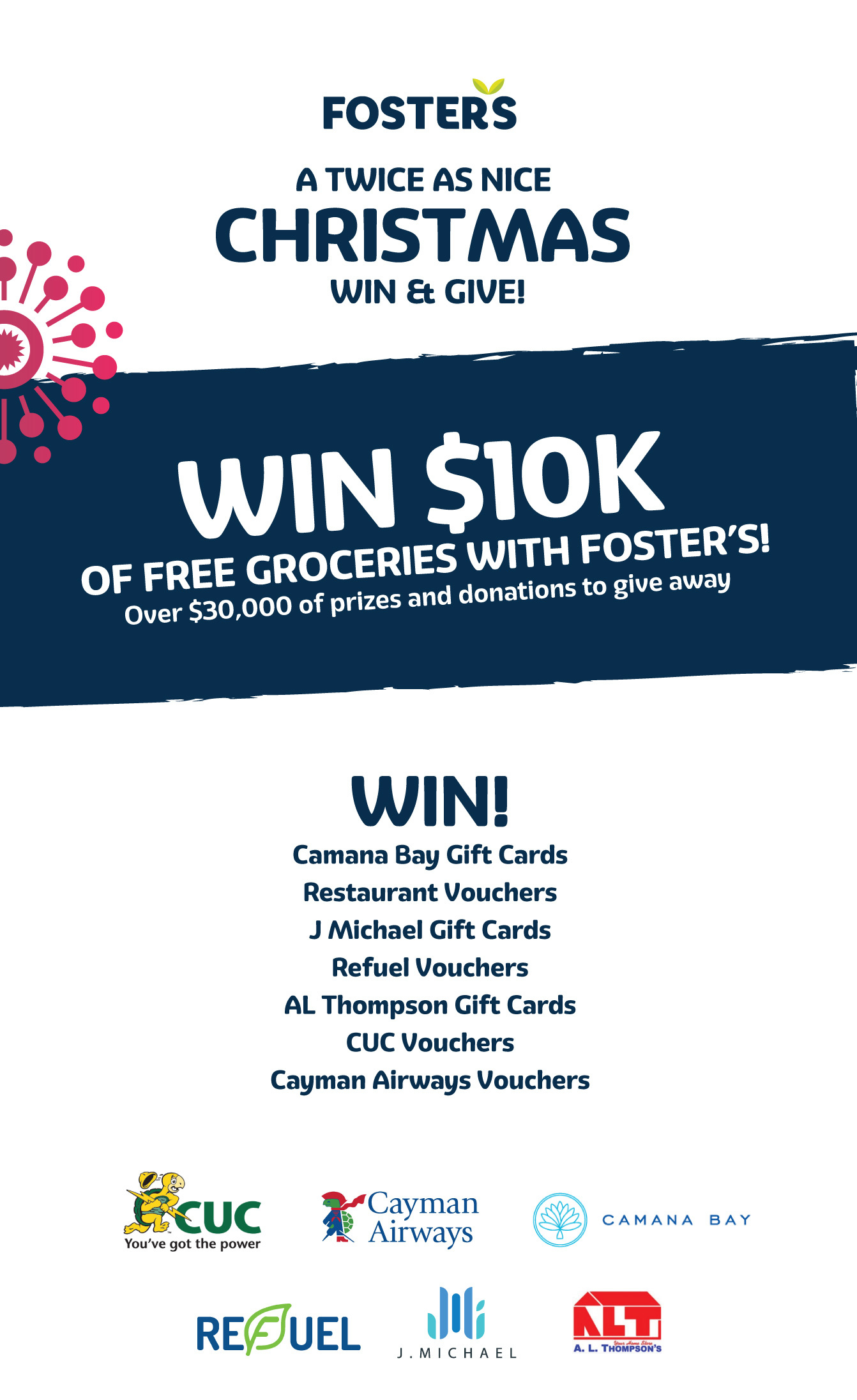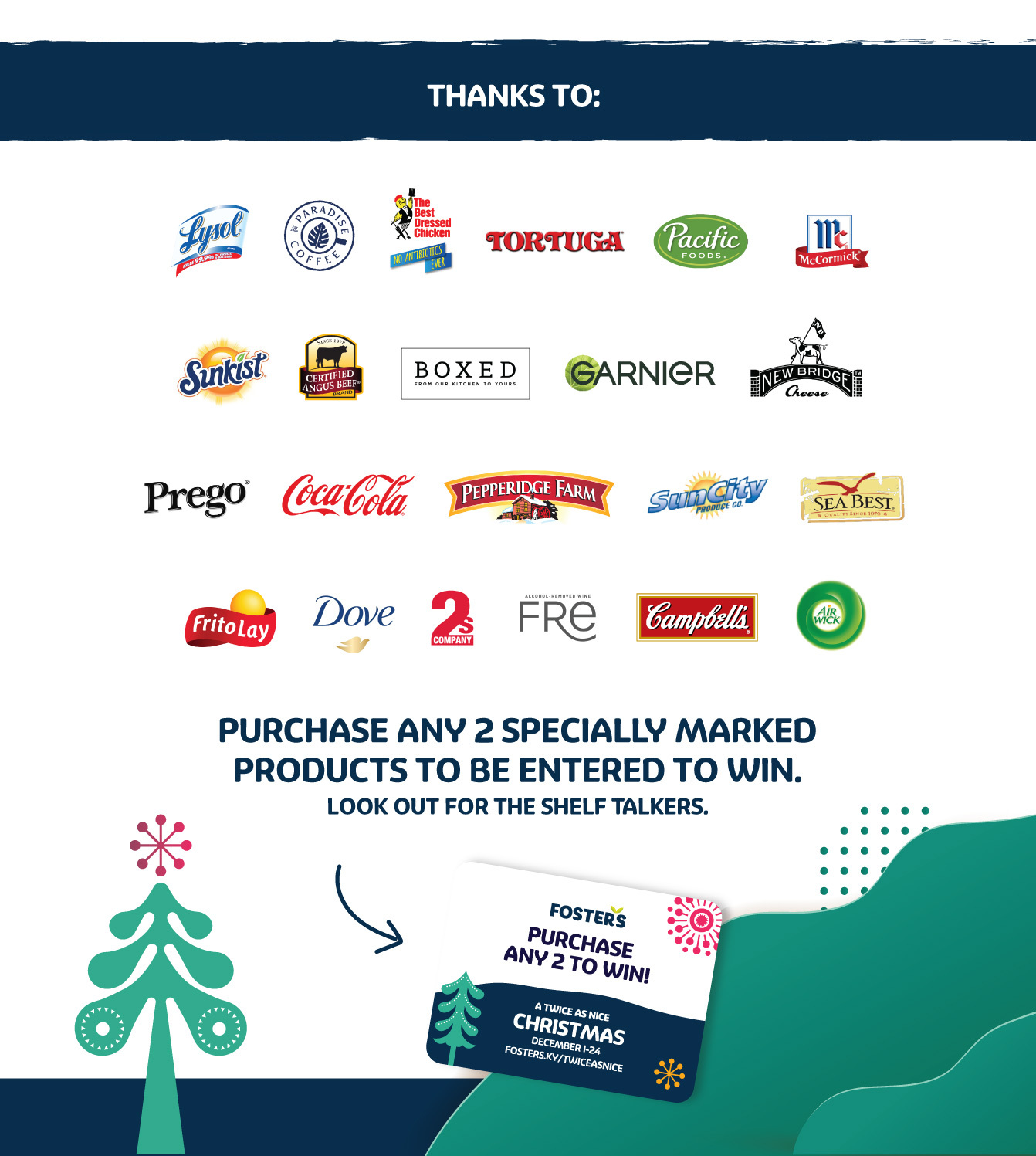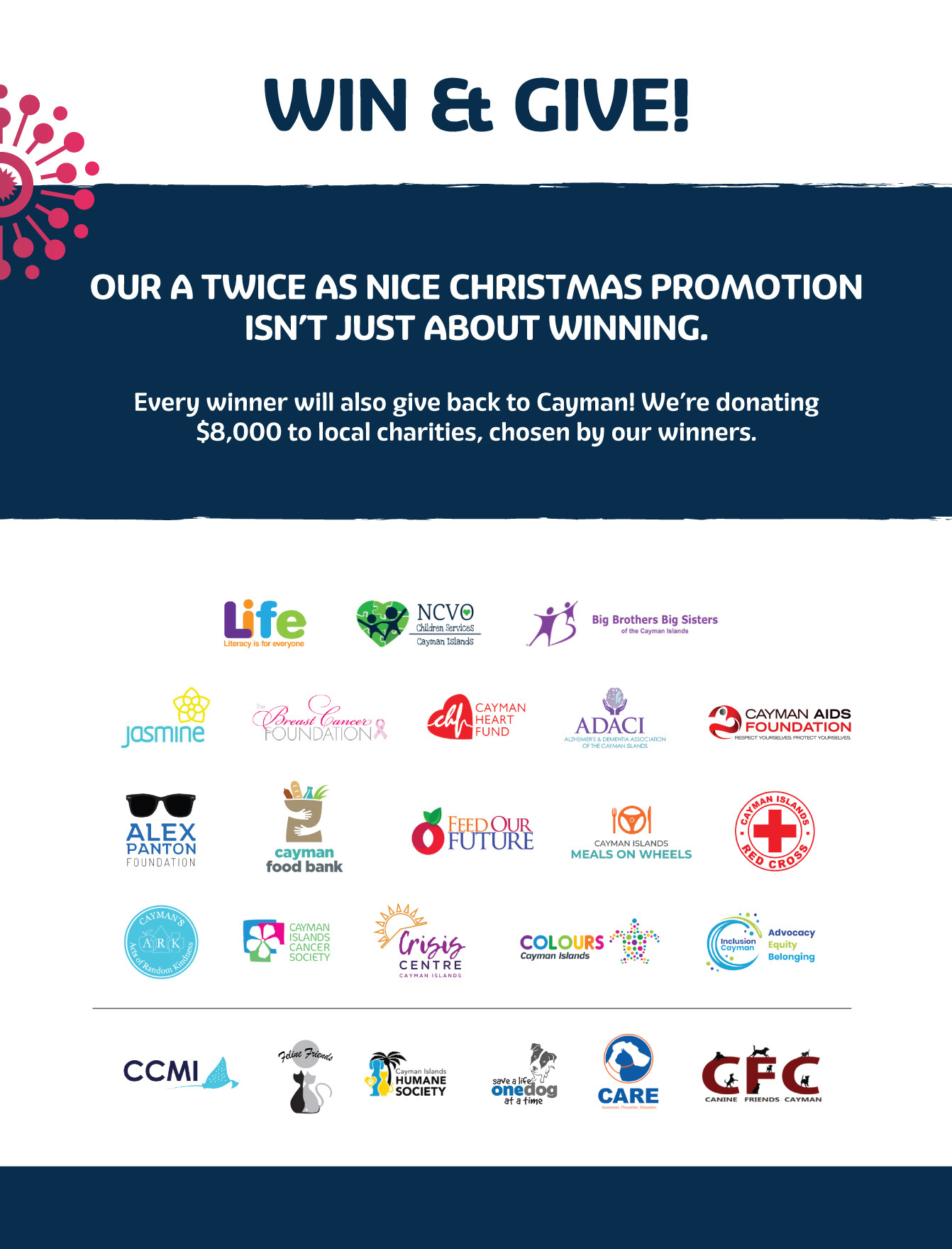 ---
GIVEAWAY TERMS & CONDITIONS. Promotion runs from December 1st until midnight on December 24th, 2022 at all Foster's Supermarket locations. Customers must purchase any specially marked product in store to be entered to win 1 of 14 prizes worth $1,000KYD each, these prizes include, 2 x Camana Bay gift cards, 2 x local restaurant voucher packs, 2 x J Michael gift cards, 2 x Refuel vouchers, 2 x AL Thompson gift cards, CUC vouchers & Cayman Airways vouchers. Customers will also be entered to win the major prize of $10k of free groceries (worth $10,000KYD). In addition to this, each winner will nominate a local charity, chosen from a pre-selected list of charities registered in the Cayman Islands, which Foster's will donate to on behalf of them. Total donations are $8,000KYD (14 x $500 for regular prizes, 1 x $1,000 for the grand prize). Customers will receive one (1) entry only into the promotion when they purchase two (2) eligible products. The prize drawings will take place by Wednesday, December 28th, 2022. Winners will be contacted via email first. If they cannot be reached in two days, they will be contacted via phone. If the winner cannot be reached within 5 days of drawing, the prize will go to the runner-up. Prizes must be collected within 14 business days reaching the winner via phone or email. Legal residents of the Cayman Islands over the age of 18 are eligible to enter. Current and ex-employees (within 60 days of end contract) of Foster's Food Fair, Ltd. and their immediate families are not eligible to participate.
Winners' photos may be used on social media.
To win, customers must submit all of the following via the entry form at : https://giveaway.fosters.ky; photo of the front of the eligible transaction receipt, photo of the back of the eligible transaction receipt, photo of the front of the entry slip(s) (with name of customer) provided with the eligible transaction receipt. If a customer can not access the entry form page, they can visit the Customer Service counter at all Foster's Supermarket locations for assistance. Contact information collected with entries will be stored securely for a period not exceeding six (6) months before being destroyed. Contact information will only be used to contact winners and will not be used for marketing purposes unless otherwise stated by the entrant.